welcome to


PIONEER
COURTHOUSE

Pioneer Courthouse, in Portland, Oregon, has been home since 1875 to the United States Courts in the State of Oregon.

A National Historic Landmark, the courthouse is currently the Oregon home for the United States Court of Appeals for the Ninth Circuit.

Pioneer Courthouse is located in the heart of downtown Portland, adjacent to the ever-lively Pioneer Courthouse Square, Portland's "living room" and once the home of the grand and popular Portland Hotel.

The courthouse is the single most important 19th-century government building in the Pacific Northwest to survive into the 21st century. Opened in 1875 as the seat of the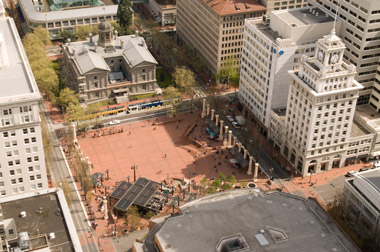 Select image for enlarged view – ©Bruce Forster
federal government in the region—incorporating the post office, judiciary, customs office, and tax department—the Pioneer Courthouse welcomed presidents, witnessed significant trials and court hearings, and has stood watch as Portland has grown from a small town to a large city.
You are invited to visit the building to tour its ornate hallways and public areas, dignified courtroom on the second floor, the cupola above the fourth floor (with its astounding vista of a century of Portland architecture), and exhibits throughout that tell the story of the building, the courts, and the people who have worked here. This website offers a sampler of those exhibits.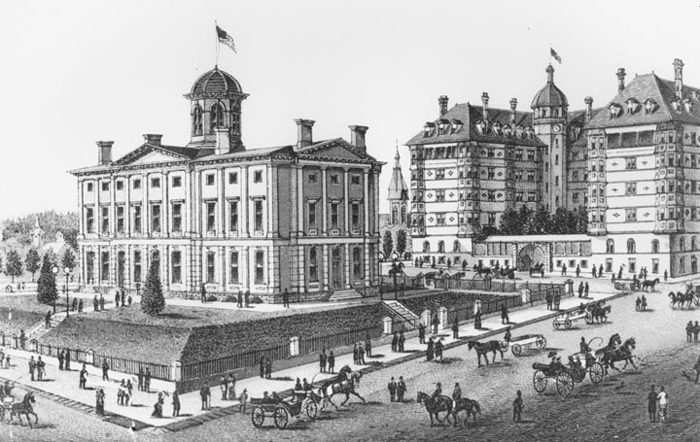 Explore the web pages described below (and Pioneer Courthouse itself) to acquaint yourself with its architecture and to learn about the federal judiciary and the significant social, political, economic, and environmental issues its trial and appellate judges have decided that have helped shape Oregon and the American West.
Downtown Portland and beyond can been seen from the eight windows of Pioneer Courthouse's octagonal cupola. On this web page you'll also see historic views of the city.
The Ninth Circuit's history reflects the history of America's development as a nation and its westward movement.
These documents, from the Magna Carta (1215) to the Civil Rights Act of 1964 have shaped the history of freedom and the development of our political and economic systems.
At the Forefront of Adventure and Architecture: Pioneer Courthouse, Portland, Oregon www.gsa.gov/portal/content/147009